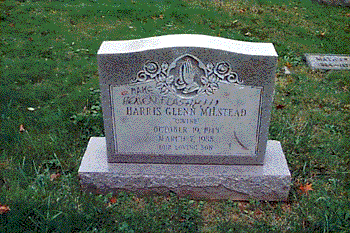 For those of you coming in to Baltimore from out of town, we have compiled a list of John Waters points of interest: some filming locations, some haunts, and some simply must-see spots. There's a link to a google map for each location. Spend a day or two getting primed and ready for the marathon by soaking up the seedy underbelly of John Water's Baltimore.
Calvert Hall College High School
8102 Lasalle Rd
Baltimore, MD 21286
John Waters' alma mater.
Geometrics Hair Salon
523 N Charles St
Baltimore, MD
(410) 539-1080
Where John Waters gets his hair cut (he trims his own moustache).
Club Charles
1724 N Charles St
Baltimore, MD 21201
Art deco walls with bartenders in black leather and excellent drinks. A dive bar where John Waters apparently regularly appears.
The Atlantis Club
615 Fallsway

NOTE: THIS LOCATION IS NOW CLOSED
A low-down gay club with erotic dancers where the infamous teabagging scenes in Pecker were filmed (real performers from the club were used). In true Waters style, it's located right next door to the Baltimore City Penitentiary.
The American Dime Museum
1808 Maryland Ave
Baltimore, MD 21201
NOTE: THIS LOCATION IS NOW CLOSED
Another Waters haunt. Hairballs and unicorns are on display in a museum that's part Ripley's Believe It Or Not, part carnival sideshow. Waters is on the board of advisors for the museum.
Divine's Grave
Prospect Hill Cemetery
9720 York Rd
Cockeysville, MD 21030
(410) 252-8462
The grave reads HARRIS GLENN MILSTEAD, "Divine." Check out the Dreamland site for the specific location within the cemetery.
"The Avenue"
West 36th Street
Baltimore, MD 21211
Asked to pick a spot that exemplifies his kind of Baltimore, John Waters chooses Hampden, the working-class neighborhood where he filmed parts of "Hairspray" and pretty much all of "Pecker." Its centerpiece is "the Avenue" -- formally West 36th Street -- a strip of cafes, galleries, thrift stores and antique shops.
The Ottobar
203 Davis St, Baltimore, MD
(410) 662-0069
Another John Waters haunt, which he has dubbed "a great rock 'n' roll, punk hangout."
Cafe Hon
1002 W 36th St
Baltimore, MD 21211
(410) 243-1230
'40s-style creamery known for its "Much Better than Mom's" meatloaf, vegetarian Mexi-Hon Salad with black-bean stew, home-baked pies and ice cream topped with tasty hot fudge from a secret recipe salvaged from the cafeteria at the landmark Hutzler's department store, which closed in 1990. Sometimes the waitresses sport '60s-style beehive hairdos; they always call you "hon" or "sweetie."
Flashback
728 S. Broadway
410-276-5086
Stop by on Tuesdays and Saturdays after 2 p.m., when they can visit with owner Bob Adams, a Waters pal of such long standing that 1972's "Pink Flamingos" was filmed on his farm. Adams has made cameo appearances in most of Waters's films, most notoriously as Ernie in "Female Trouble." The store's shelves are stuffed with videos, vinyl and tape, assorted knickknacks and memorabilia, while the walls are full of posters and artwork from Waters's films.
Atomic Books
1100 W. 36th St.
Baltimore, MD
410-662-4444
Home to "Literary Finds for Mutated Minds." "That's where I get all my fan mail, so people don't have my address," Waters says. "It's a great store -- they have extreme books of all types!" The store keeps a supply of books autographed by Waters.

Holiday House
6427 Hartford Rd. at Pinewood Avenue
Baltimore, MD
A real biker bar in the working-class 'hood of Hamilton. Selma Blair's character in A Dirty Shame, Ursula Udders, works as a well-endowed topless dancer here, and many real motorcycle riders were used in the filming. Be sure to pop in to the Hell Bent for Leather store one door down.
The Drinkery
205 W. Read St.
Baltimore, MD
410-225-3100
In the Mount Vernon area is one of Baltimore's oldest gay bars. Just outside is where Divine performed the infamous dog feces-eating scene at the end of Pink Flamingos.

10 Ft. Statue of Divine
American Visionary Art Museum
800 Key Hwy.
Baltimore, MD
410-244-1900
Perry Hall High School
8100 Ebenezer Rd
Perry Hall
Maryland, USA
Used for scenes in Hairspray.
Mergenthaler Vocational Technical School
3500 Hillen Rd
Baltimore, MD 21218
Also used for shots of the Hairspray High School
The Parkville Convenience Store
7501 Harford Rd
Parkville, MD 21234
(410) 444-4702
Called the Park 'n' Pay in A Dirty Shame, is where Tracey Ullman's character works. Dorsay tells us, "It was run by a wonderful Indian family who didn't have a clue who we were until we hired a translator to explain what we were doing."
The Harbor Court Hotel
550 Light St.
Baltimore, MD
410-234-0550
On Baltimore's inner harbor is the site of much action in Cecil B. Demented. It's also where real-life movie stars often stay when they're in town.

The Dreamland Lot
313 Morris Ave.
Lutherville, MD
Where John Waters shot most of his early films, the expansive backyard of his parents house.
Bengies Drive-In
3417 Eastern Blvd
Baltimore, MD 21220
410-687-5627
Where Melanie Griffith defiantly set her head on fire at the climax of Cecil B. Demented.