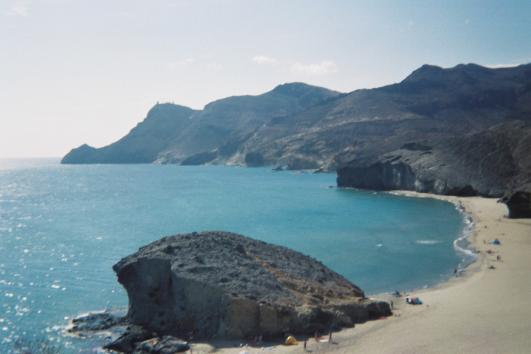 If you are considering joining us in Spain for the
2008 Rolling Roadshow Tour
, you should check out this
Conde Nast Traveller
article from that waxes poetic about the serene beauty of the Almeria region. Not only were dozens of spaghetti westerns shot in this area, but also portions of LAWRENCE OF ARABIA and INDIANA JONES AND THE LAST CRUSADE. The photo attached here. I scouted the locations for the Leone tour earlier this year and was amazed at how pristine and well preserved the region is. Expect some more news about the event very soon including information on special guests, VIP tickets and the limited-edition art poster series. The attached photo is the beach from INDIANA JONES AND THE LAST CRUSADE - only 15 minutes from the screening location of FISTFUL OF DOLLARS.
Check out complete information on the
2008 Rolling Roadshow Tour
.